Bubble Protection
Promotions
No more vacant stares into your monitor because you were once place short of claiming a prize.
Now your buy-in will be protected, cost-free, no strings attached, when you fall just short of the money.
All you need to do is Show up Early!
MTT Early-Bird
Players who register to tournaments before they begin
Protect Your Buy-In
Look for the 'Bubble Protection' badge within the tournament lobby
Register before the start of the tournament (Early-bird)
Get your buy-in back if you bubble (finish just outside payouts)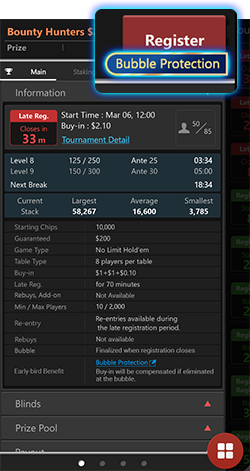 Tournaments with Bubble Protection
Daily Guarantees
Bounty Hunters
Omaholic
Phoenix Rebuy
MBP
Number of bubble players will correspond to the number of entrants.
| Tournament Entrants | Bubble Protection Candidates |
| --- | --- |
| 10 ~ 99 | 1 |
| 100 ~ 499 | 2 |
| 500 ~ 999 | 3 |
| 1000 ~ 1999 | 4 |
| 2000 ~ 2999 | 5 |
| 3000 ~ 3999 | 6 |
| 4000 ~ 5999 | 7 |
| 6000 ~ 7999 | 8 |
| 8000 ~ 9999 | 9 |
| 10000 + | 10 |
FAQ
Q. I registered early but was eliminated and want to re-enter. Will I still be protected?
A. Once an early-bird, always an early-bird. You will retain Bubble Protection, regardless of re-entry.
Q. Will Bubble Protection cover multiple buy-ins?
A. Early-birds who benefit from Bubble Protection will have their early registration buy-in protected.
Q. Do backers share Bubble Protection?
A. Nope, staking does not apply to Bubble Protection, or vice versa.
Q. Is Bubble Protection available for satellites?
A. Bubble Protection will not be available in satellite tournaments.
Q. I just bubbled out of a tournament. Where is my buy-in?
A. If you were an early-bird, it should've already been credited. (Bubble Protection rewards are credited as you are eliminated.)
Q. In what form is my buy-in refunded?
A. Bubble Protection will normally cover your buy-in in T$. Methods of compensation might differ based on certain tournaments.
Terms & Conditions
1. Players must meet the age requirement of 18 years or older to participate in this promotion.
2. Bubble Protection may not be available for certain tournaments.
3. Bubble Protection will not be available for tournaments with less than 10 entrants.
4. GGNetwork reserves the right to modify or suspend the promotion at any time.
5. If any players fall under suspicion of fraudulent activity, GGNetwork has the right to investigate and remove the players once it's confirmed.
6. The promotion is subject to the terms and conditions of the site.
7. GGNetwork standard rules apply.