Chinese Rush
Games
What's Chinese Rush?
Chinese Rush is the fastest-paced poker game around, in which you'll never have to wait for a hand!
In this action-packed format, you will immediately be dealt new hands when you fold!
December Promotion : ¥680,000 Chinese Rush Festival
Check out the details, here.
How the Game Works
, and you'll immediately be dealt a fresh hand at a different table, against new opponents.
You can quick fold whenever, even if it's not your turn to act, as long as you are facing a bet.
If you wish to spectate how a hand plays out, just hold quick fold.
---
· Players will be seated randomly for each hand.
· Blind positions will be determined in a way that everyone pays the same percentage, in the long run.
How to Join Chinese Rush
Chinese Rush is playable on both PC and Mobile, for No Limit Hold'em.
To play, select your stakes in the Chinese Rush lobby, accessible via the main lobby icon on mobile, and Chinese Rush tab on PC.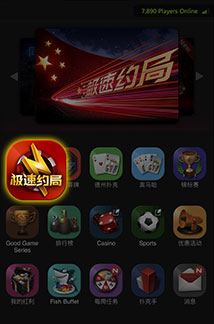 Additional Information
Chinese Rush is played in CNY.
You can enter Chinese Rush tables with just USD balance. USD will be automatically converted into CNY as you enter Chinese Rush tables.
All-In Insurance will be available in Chinese Rush.
Run It Multiple Times (Run it twice, Run it three times) will be unavailable, to preserve the fast-pace nature of the game.
Available Stakes

| Blinds | Buy-in | Rake per Pot | Rake Cap |
| --- | --- | --- | --- |
| ¥0.10 / ¥0.20 | ¥10 ~ ¥20 | 5% | ¥2 |
| ¥0.20 / ¥0.50 | ¥25 ~ ¥50 | 5% | ¥5 |
| ¥0.50 / ¥1 | ¥50 ~ ¥100 | 5% | ¥8 |
| ¥1 / ¥2 | ¥100 ~ ¥200 | 5% | ¥16 |
| ¥2 / ¥5 | ¥250 ~ ¥500 | 5% | ¥25 |
| ¥5 / ¥10 | ¥500 ~ ¥1000 | 5% | ¥50 |